New Fall schedule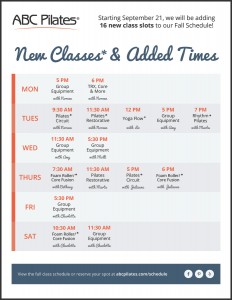 No more frustration about not getting into the classes you want; 0ur new Fall schedule rolls out at the end of September with 16 classes added! In addition to adding more times of the old favorites, we've also added a few totally new classes/formats, such as Rhythm Pilates® and Foam Roller/Core Fusion. Click here to read class descriptions.
Starting Sept. 21, you'll see the new schedule on MindBody just waiting for you to sign up. Elevate your game and pick up a few more workouts throughout the week, or step out of your comfort zone and mix up with a new workout!
Note: Please check the description of the class you are signing up for to ensure you are in the correct class for the workout/intensity you desire.
---
Pay it forward! Pilates Pal Month (Sept. 21-Oct. 21)
Refer a friend this month and you BOTH get $15 off your memberships!
Some of the best clients we have at ABC Pilates are those who were referred to us by a friend or family member. We want to thank you for introducing us to your fabulous loved ones, so we are running a month-long special! Here's how it works:
Refer a friend between September 21 and October 21
When they sign up and mention your name, they'll get $15 off their "Learning It" Package
You'll get $15 off your next month's membership
Who will be crowned 'Best Pilates Pal 2015'??
The top two clients who refer the most friends will receive lululemon giftcards! (Must refer minimum of 5 friends to qualify.) 
---
Fun Upcoming Events – Save the Dates!

Night Out at Five Vines Wine Bar
Thursday, October 15 at 5 PM

Enjoy a fun night out with all your ABC Pilates Pals. Join us at Five Vine Wine Bar in San Juan Capistrano for a delicious wine/beer tasting, yummy eats and great company. RSVP to julianne@abcpilates.com by October 12 and get ready to party!
Annual ABC Pilates Party
Friday, November 20
It's that time of year again! The annual ABC Pilates Client Appreciation Party is just around the corner, so make sure you save the date. Gear up for a fun night at the studio with drinks, friends, food and lots of laughter.
---