It's overwhelming to think about all the routine activities that wreak havoc on our spines: from sitting, lifting and standing to running and biking (not to mention injuries, excessive weight, and  muscular imbalances) one thing is clear: poor posture is taking over our bodies! Luckily for us, Pilates can help correct your poor posture and alleviate the pain that comes with it. 
Benefits of proper posture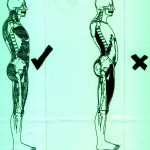 Aside from helping us look and feel better, proper posture assists in alignment of the bones; when this occurs, your muscles,  joints and ligaments can work as nature intended. Proper posture also helps with vital organ function for peak efficiency, as well as normal function of the nervous system.
Our spines are designed to move in all ranges of motion. You can get a happy spine through Pilates practice by moving in extension, flexion, lateral rotation, rotation.  This creates a stronger spine and facilitates better posture, which ultimately leads to less stiffness and pain.
Achieving better posture through Pilates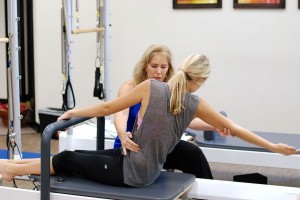 At ABC Pilates, we see many of our clients coming in to workout with weak glutes, upper/mid-back muscles, and pectoral muscles, as well as tight hip flexors and hamstrings. These issues can hinder your workout and lead to pain and stiffness unless properly addressed.
During a private training session, your instructor can perform an initial postural analysis to uncover any postural deviations and/or muscular imbalances. Then, she will create a Pilates workout that helps strengthen the deep core muscles, which work to stabilize and support the muscles of the spine. Couple that with stretches to increase flexibility and you are on your way to better posture and less pain and stiffness!
At ABC Pilates, postural alignment and correct movement patterns are taught in group classes, too; so hop on the schedule and we'll keep you moving in the right direction throughout your day.
Sincerely,
Julianne
ABC Pilates Studio Manager & Instructor
 
 
---