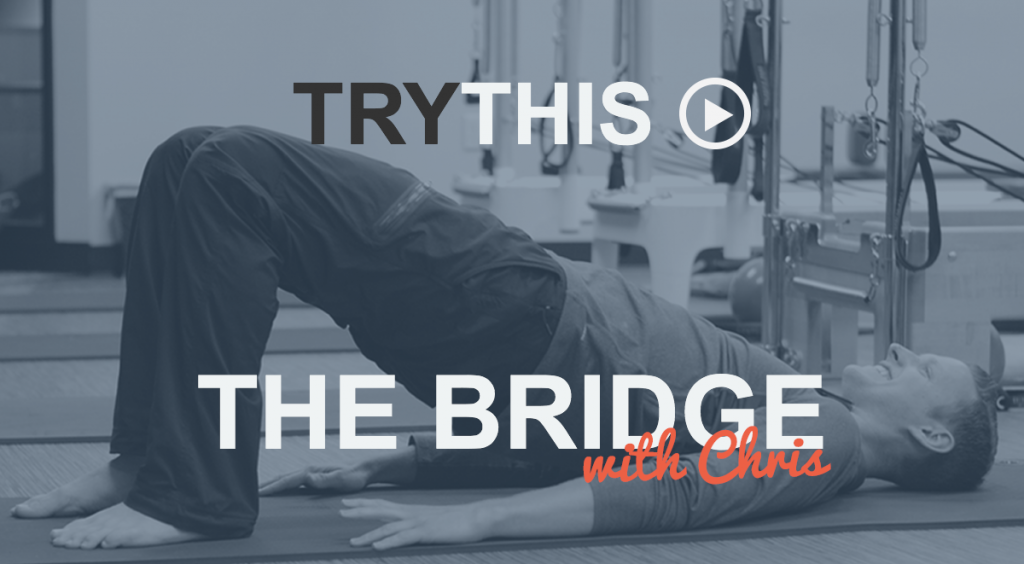 If your spine is inflexibly stiff at 30, you are old; if it is completely flexible at 60, you are young.
—Joseph Pilates
Whether you're pushing and strengthening your body while working out, or compressing your vertebrae while at work, you're constantly putting stress on your body throughout the day. The bridge articulation helps to unload the spine by enabling the segmental, fluid movement that can help the muscles move more freely.
Why you should be doing Pilates bridges
To open up and facilitate articulation and mobility through the vertebrae of your spine
To loosen up tight back muscles
Breath facilitates movement to stimulate blood flow
Without mobility, you can't have stability. The less mobile your spine is in a particular segment, the less fluid your body will move; this leads to more tightening or dysfunction because your muscles have to work harder to try and stabilize your body.
The bridge articulation uses mindfulness, breath and neural control to facilitate mobility and stability of the spine in order to keep it healthy. Now, bridges may seem like an easy exercise, but the mindfulness involved and stiffness in the back can make it quite challenging.
How to perform a bridge articulation
Step 1
With pelvis in neutral, inhale laterally through the back and sides of your ribs. Exhale as you tuck your tailbone under and hollow out the space beneath your belly button.
Step 2
Starting at the lower lumbar vertebrae, begin peeling your spine away from the mat as you lift your butt off the mat. Continue peeling your vertebrae off the mat, one at a time, until top of shoulder blades are off the mat. 
Step 3
Reach the sit bones to the back of the knees to elongate the spine. Inhale at the top of this movement. Avoid hyperextending in this position.
Finish
As you exhale, begin funneling the ribcage down toward the pelvis as you create space between your vertebrae, one at a time, as they press back down against the mat, maintaining spinal flexion. Once the lower vertebrae have settled nicely into the mat, relax the pelvis into neutral position.
Bridge modifications
Typewriter Bridges
For lumbo-sacral stiffness, if you feel locked up or tight
This is great to do at the start of your pilates session if you're feeling locked up. Perform at the beginning and then again at the end of your session to feel the change as a result of your Pilates practice!
Articulate up into bridge position. At the top, shift your pelvis from left to right. Come back to center, articulate down a few segments, and repeat. Do this through 5 or 6 segments in your spine as you roll down from elevated position.
Glute Bridges
For strength
Squeeze the butt as you lift up. That's the money!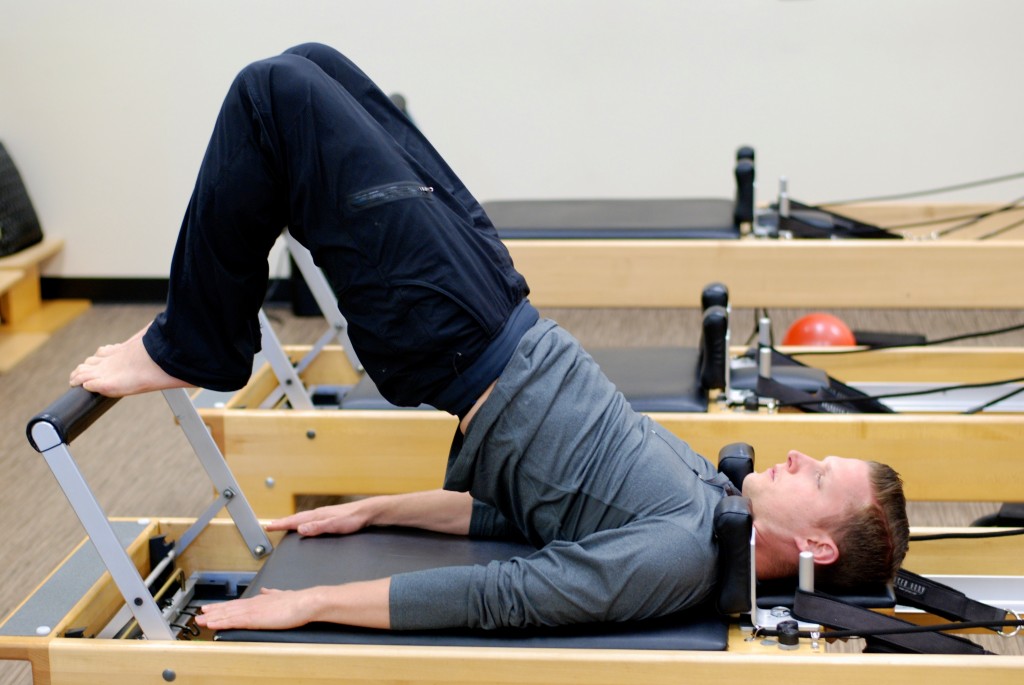 Try a bridge articulation on the reformer.
---

Chris Talambas is a certified Pilates instructor at ABC Pilates in Laguna Niguel, Calif. His drive for exceptional physical performance, unique gift of touch and engaging personality makes him a perfect member of our upbeat team of wellness experts
Click here to learn more about Chris and the other ABC Instructors.
---