Don't forget your costume this Saturday!

Coming to class on Halloween morning? Wear your favorite costume or Halloween colors this Saturday and be ready for a fun Halloween workout in every class! Spots are filling up fast, so sign up now and don't miss out on this ~SpOoKy~ good time.
---
Annual Client Appreciation Party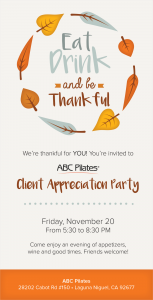 It's that time of year again! We are so grateful for each and every one of you who supports our ABC Pilates family. To say thank you, we hope you can join us at our Annual Client Appreciation Party at ABC Pilates on November 20 from 5:30 p.m. to 8:30 p.m. Grab a friend and enjoy an evening of appetizers, drinks and lots of laughter as we celebrate the Pilates love! Please RSVP on Facebook, or email julianne@abcpilates.com.
---
Thank You for the Introduction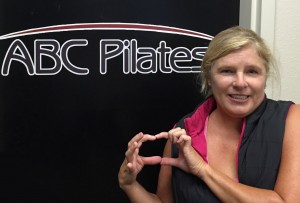 Pilates Pal Month was a fun success! We enjoyed meeting your friends, husbands, kids and other loved ones, and thanks to you all our ABC Pilates Family has grown a little larger through love this past month.
---