May 7 – Pilates Day Open House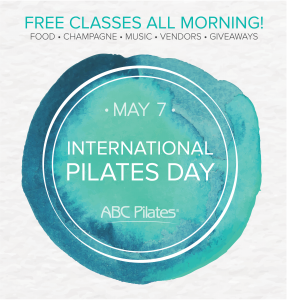 Save the date: Saturday, May 7 is International Pilates Day. Grab a friend (or two… or three!) and join us at ABC Pilates for a fun morning filled with FREE demo classes, food, champagne, vendors and giveaways. Current client? You'll also get a raffle ticket for every friend you bring along for a chance to win some extra special prizes!
Demo spots will fill up fast, so keep an eye on your inbox for the email alert that the online schedule is up so you and your friends can save your spots.
---
New Classes Added in April
Everyone's favorite Italian instructor Marta is adding two new classes to our ABC Pilates schedule this April. Get your cardio in and rev up your metabolism on Mondays at 10:30 a.m. Cardio Barre. Or, move it and shake it to wake up your Thursday morning at Rhythm Pilates® at 9:30 a.m.
---
Rausch PT Youth Sports Safety Workshop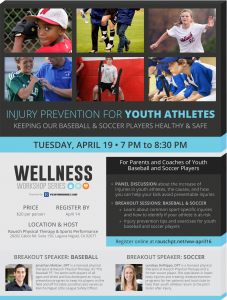 Are you the parent of a youth baseball or soccer athlete? Did you know that more than 3.5 million children age fourteen and under get medical treatment for sports injuries each year?
April is National Youth Sports Safety Month. Educate yourself to help keep your kids healthy and competing safely for MANY years to come, and join our friends at Rausch Physical Therapy & Sports Performance for a Youth Sports Injury Prevention Workshop on Tuesday, April 19. Learn about common baseball and soccer-specific injuries, how to identify if your athlete is at-risk, and get some real-life injury prevention tips and exercises for your youth athletes.
---