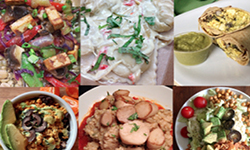 The Vital Role of Nutrition
Nutrition is often the most overlooked component of any healthy living. We take care of the outside of our bodies, but neglect the incredibly important interior that governs our recovery, energy level, immune system and more. Your body & brain needs food as fuel – to think, recover, build muscle, and repair to grow. Yet, the very process that gives your body energy & life also requires energy to break down into useable units of energy.
Meals made from fresh, unprocessed, organic real foods are easily assimilated into the system to buoy the immune system, aid in muscle fiber repair and fight off the overwhelming physical stressors that we are subjected to. For many of us, this means adding more work into our already busy daily routine. But who has the time?
We do at Bite Me Kitchen!
We prepare healthy, carefully crafted meals made from fresh organic ingredients at an affordable price for busy people like you. No minimum orders. No subscription. Convenient weekly pick-ups at ABC Pilates or home delivery available.
Looking good and feeling good is a result of taking care of your whole body – from the inside out! We look forward to being a part of your journey. Feel free to check our website at www.bitemekitchen.com for our menu. You can always email us any questions to eat@bitemekitchen.com
~Be Well~
Rose & Adam Zalewski
Bite Me Kitchen
Fuel Your Life