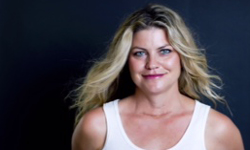 Valli is a stabilizing force for her trainees, colleagues, family and friends. She "entered" the military as the daughter of a decorated aviator, and later became a marine corps wife. She's "Mom" to two special needs kids, who constantly remind her how overcoming challenges is more about a point of view and attitude. PS: You will not be excused from training because you were "tired," couldn't find a sitter, or because work got in the way!
 
More about Valli's class – Run Fusion: 
Ever gone to a packed class and felt lost and not sure you were doing the exercises correctly? Our new Run Fusion can fix that! This class is designed to maximize your results with personalized (or individualized) training in a small group setting. 
 
You will be challenged with a blast of cardio doing interval-style strength and conditioning exercises combined with a outdoor run component. You will become stronger and more flexible while improving your run form. 
 
Class is taught by a certified Natural Running Instructor & Group Fitness expert. This class will keep you healthy from starting line to finish line!
 
Classes begin Tuesday, October 21st at 8:30am and Friday, October 24th at 9:30am.